CBE Group is an expert in the production of segment moulds, used as tunnel coating. Specialized in the design of segment moulds for 36 years, CBE Group provides highly accurate precast solutions, with no equivalence on the market. Since its first projects, among which the Channel Tunnel, CBE Group has produced 29 500 moulds and worked on more than 620 projects worldwide.
Composition and precision of the segment mould
The mould plays an essential role in the creation of a tunnel using segments. Each tunnel is unique, which is why moulds are tailor-made, created from the data provided by the client in the concrete plans. Precision is really crucial: segments have to fit together perfectly in the tunnel. Within the mould scale, precision has to be by the tenth of a millimeter.
Watch the CBE Group moulds in action in an automated plant
Keeping this in mind, any conception phase has to start with a careful and thorough analysis of the complete technical data given by the client.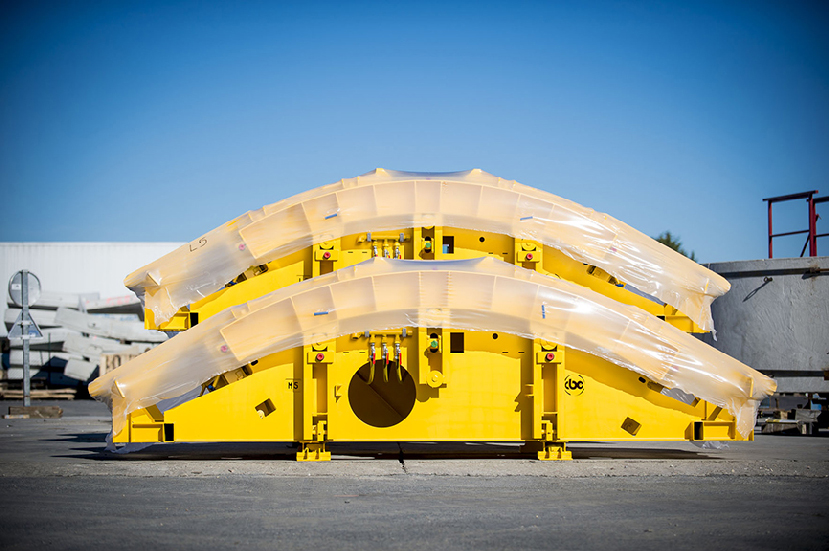 Durability of the segment mould
Moulds are designed for maximum durability. CBE Group calculates the resistance of the components to ensure the durability of each mould despite vibrations (the dynamic part of the mould) during the concreting phase. High machining accuracy allows the company to limitate operational clearance, to certify supports for each side wall, to avoid matting during vibration and to ensure the respect of the volume references of the mould in space.
Defining the exact parameters and equipment which constitute the vibration imply technical knowledge and experience, both guaranteed by CBE Group.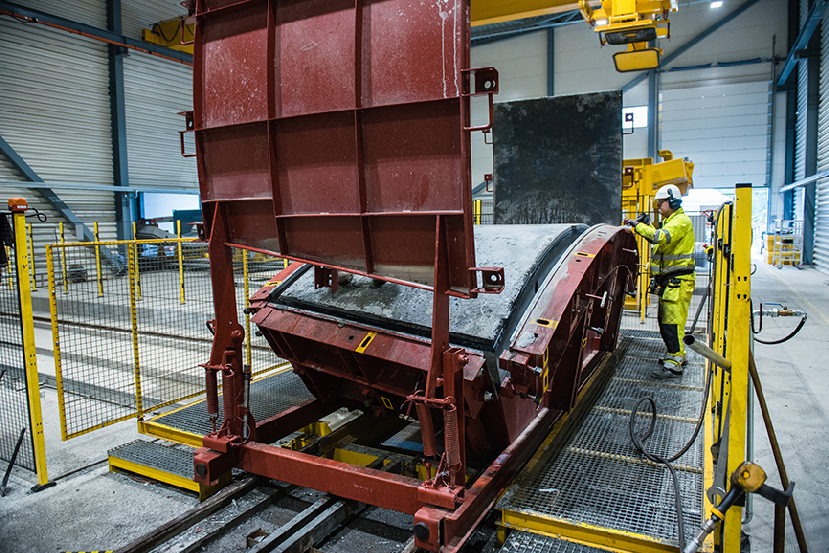 Profitability and deadline compliance
The overall success of a project lies within the TBM efficiency and the quality of the moulds. The better the mould quality, the more segments are produced (less segment rejection), and the faster the TBM is supplied, all meaning that the client gets optimum profitability for his project.
CBE Group can also, on demand, offer solutions to raise significantly the client's production capacity, so that the TBM is always supplied with segments.
Moreover, our network of industrial partners allows the client to benefit from the most advanced techniques, notably in the machining sector.
Comfort at work
Working in a segment production factory can be repetitive and requires permanent attention, as the loads handled are quite heavy, and the construction work can last several months. While designing the moulds, CBE Group makes a great deal out of the safety of the workers and the ergonomics of the work stations.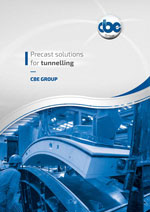 Download here the CBE Group corporate brochure

CBE Group, tunnelling expert, offers you tailor-made solutions for the optimization of your project.
Please contact us or ask us directly for a quote.