CBE Group has been offering its expertise in the tunnel industry for 35 years, particularly in the automated industrial production, thanks to its innovative automated plants, called carousels. The company has installed 230 carousels worldwide so far.
How to produce segments
Segment production is a major part in a tunnel project. The TBM has to be constantly supplied with segments; to optimize production, a precast plant is set up, either stationary or automated through a carousel. The choice between stationary and carousel is either economic or depends upon the project progress.
The plant, located next to the tunnel project, has to be adapted in order to fit in the moulds, as well as the handling equipment necessary for the completion of the project. The client has to provide an empty building, and CBE Group handles the rest.
Watch the functioning of a CBE Group automated plant (Copyright Consolis/Bonna Sabla)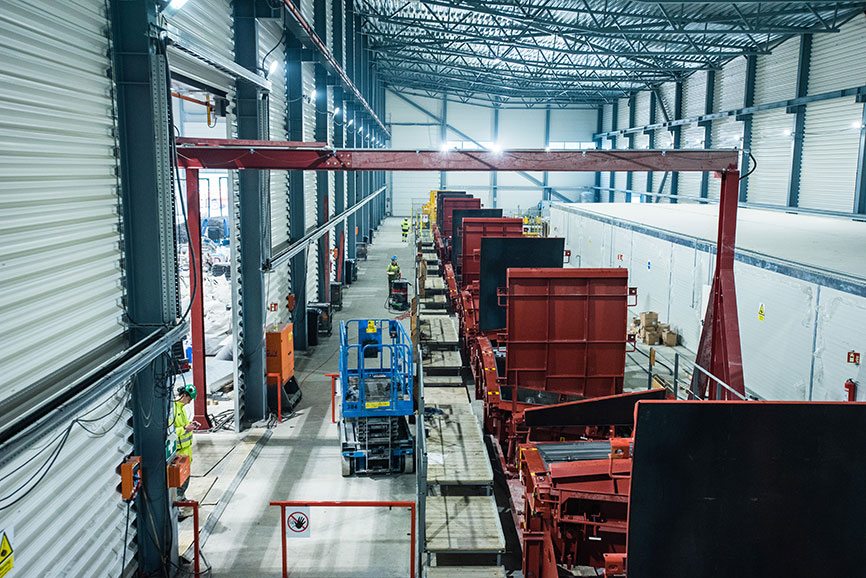 The carousel
The carousel CBE Group provides its clients with is an automated production system. The moulds are moving while the workers and equipment are not. A drive system allows moulds to go from one station to another with the help of rails :
Working line. All the necessary steps to produce a segment are carried out on this line: mould preparation, concreting, demoulding, cleaning.
Curing room. The thermally isolated chamber in which moulds are placed after the concreting, in order to dry faster. The maximal temperature is 65° C and the humidity is close to 80% (sometimes 100% in certain projects).
Evacuation line. Once demoulded with the help of a vacuum lifter, the precast elements are transferred to the evacuation line, in order to place additional devices such as gaskets, springs, inserts etc. They are then stored in a dedicated area, waiting to get moved to the TBM.
The production of a single segment, going through all these steps, usually takes 7 hours, among which 6 hours of curing chamber. In a carousel, a new segment is produced every 10 minutes (with a record 7-minute production rhythm reached for the FOLLO LINE project in Norway).
The stationary plant
In this configuration, moulds are fixed to the floor for the whole duration of the project, while work stations are mobile. All the equipment, concrete included, has to be dispatched to the moulds. Operators also have to move to complete each step of the segment production process.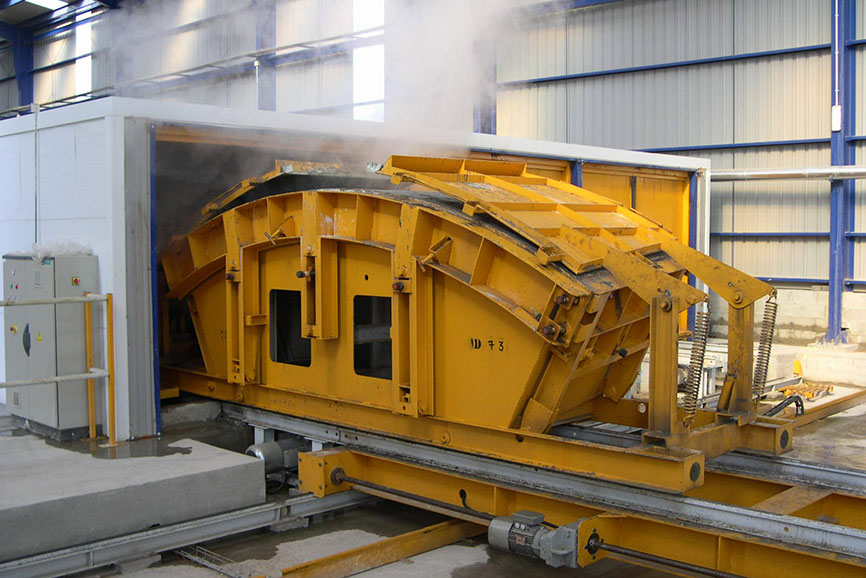 Key advantages of a carousel
Significant productivity increase (up to 30-40%)
Increase in the production rate, one segment is produced every 7 to 10 minutes
Better segment quality
Steady drying time, regardless of the weather
Noise reduction since the moulds are isolated during the concreting phase
Less workers needed within the plant
Safety increase

CBE Group, tunnelling expert, offers you tailor-made solutions for the optimization of your project.
Please contact us or ask us directly for a quote.