The Mostra d'Oltremare conference centre in Naples, Italy, welcomes the WTC show (World Tunnel Congress) from May 6th to 9th. CBE Group exhibits among more than 200 exhibitors from the tunnel field. This event is the opportunity for the French company to gather its agents from all over the world for an annual seminar.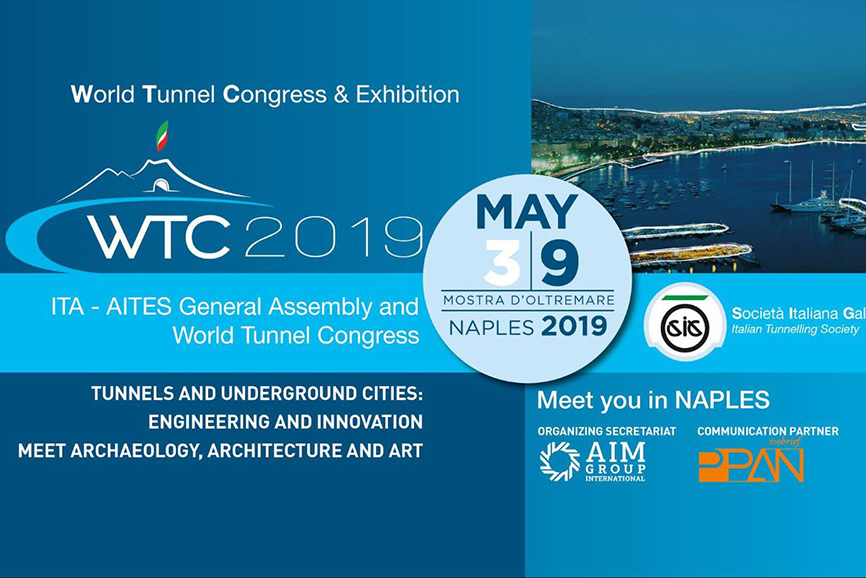 CBE Group at WTC, between tunnel and history
2 000 visitors from around the world are expected for this 2019 edition of the WTC that takes place in Naples until May 9th. This year is a big first for the event, considering that tunnelling themes mingle for the first time with archaeology, architecture and art. Indeed, 150 conference sessions are planned during the show to introduce the latest innovations in underground construction, engineering and design, in order to become more respectful of the environment and historical patrimony. Several tours are also planned at the end of the event to visit recently opened construction sites, as well as the Borbonico tunnel, commissioned in 1853 and newly renovated.
This WTC promises to be rich in lessons and in productive meetings for CBE Group.
CBE Group international agents gather for their annual seminar
The company reiterates its invite to CBE agents for their annual seminar, which will take place in a conference room near the WTC exhibition. Positive and encouraging feedback from the 2017 seminar motivated the company to renew the experience, in order to inform its agents about the news of the company, to introduce them to current projects and to communicate on each other's techniques and on the desired guideline for the future of the company. CBE Group wants to remind its agents that they are an integral part of the team, while reinforcing their trust and strenghthening CBE's international image.
Come and meet the CBE Group team on booth 53 at WTC
Do come and meet our commercial team on booth 53, to introduce them to your tunnel projects. We will answer all your questions, and we can put our experience and knowledge at your service to advise you and guide you in your search, whether it is for the manufacturing of concrete segment moulds or for the commissionning of an automated plant to speed up production.
CBE Group, tunnelling expert, offers you tailor-made solutions for the optimization of your project. Please contact us or ask us directly for a quote.