The 2019 edition of the RETC exhibition took place in Chicago in the US from June 17th to 19th. CBE Group exhibited there, the last event of a heavy semester for our sales team. They have travelled a lot since the beginning of the year : Germany, Italy, twice the United States... A return to France rich in meetings and projects.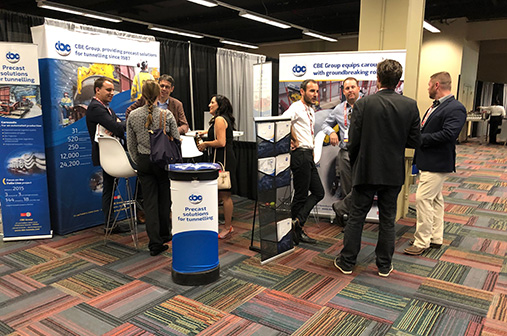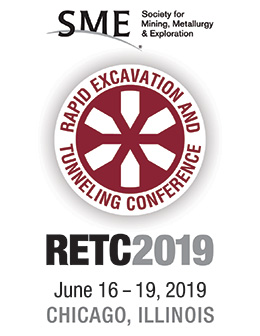 CBE Group received a warm welcome at RETC in Chicago
The event allowed CBE Group to meet with its American partners, in order to review current and future projects. Many contacts came to see us on our booth and had a talk with Julien TRAVERS, CBE Group's Sales Director : « The combination of short conference sessions and exhibition that RETC offers makes a qualitative show : all the American actors of the underground field came to meet us, and we had very productive discussions. North Amerca is a promising market and many projects are announced for the next few years. » CBE Group wants to bring its expertise to the American industrial companies, to provide them with segment moulds as well as to automate their production.
An American exhibition full of promises for CBE Group
Major partners and numerous projects are announced, projects for which CBE Group is waiting for an answer shortly : the LOS ANGELES OUTFALL project, a tunnel for wastewater, managed by the DRAGADOS company, or the I75 MODERNIZATION roadway tunnel in Detroit by AECOM Capital. In the medium run, CBE Group offered its services for the HAMPTON ROAD project, a roadway tunnel to be built in Virginia, and also the SHIP CANAL WATER QUALITY project in Seattle. The activity on the American tunnelling market is particularly intense, and promises strong perspectives for the French company, which has been working on American soil for 20 years now, and has achieved no less than thirty projects so far. The RETC show was the opportunity for CBE Group to confirm its presence on the booming American tunnelling market.
CBE Group, tunnelling expert, offers you tailor-made solutions for the optimization of your project. Please contact us or ask us directly for a quote.