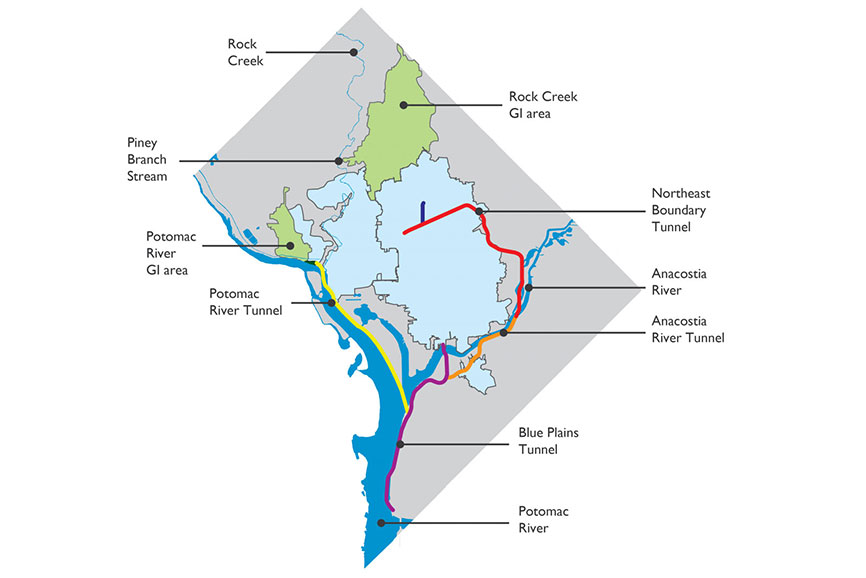 In 2014, CBE Group provided 6 master rings to Bay State Precast LLC for the Anacostia tunnel in Washington D.C, USA. This tunnel is part of the "Clean Rivers Project", started in 2013, which will relieve the sewer system of the capital city.
The segments have been produced in the Bay State Precast LLC precasting factory, located in Brandywine, a few miles away from Washington DC. The moulds were placed on a carousel that had already been used for the Blue Plains tunnel in Washington. Like the latter, the Anacostia project also used the anchored gasket technology, which means that the gaskets were placed within the moulds before the concreting process, instead of gluing them to the segments in a long process. Each ring is composed of 6 standard segments and 1 key segment, with an external diameter of 7620 mm, an internal diameter of 7010 mm, a thickness of 305 mm and the segments width is 1829 mm.
By the end of 2016, the Anacostia tunnel (3,84km) is complete, 1 year and 1 day after the launch of the TBM. This tunnel is only the first part of the "Clean Rivers Project", the most ambitious underground project in the capital city since the construction of the subway. The Anacostia tunnel is the second out of 4 tunnels, the first one being the Blue Plains Tunnel, built from 2013 to 2015. The overall project should be completed by March 2018; it will ease the city's sewer system while decontaminating its rivers, it will also reduce the risk of flooding. The Impreglio/Healy/Parsons joint-venture was designated for the project in 2013 and cost 186 million euros
Click here to see a video of the Anacostia Tunnel
CBE Group, tunnelling expert, offers you tailor-made solutions for the optimization of your project. Please contact us or ask us directly for a quote.