In 2015, CBE Group provided 3 carousels to the Acciona-Ghella joint-venture, mandated for the construction of the 22 km long double tunnel, linking Oslo, capital city, to Ski. The 3 carousels, as well as the moulds, were designed in the design office in Saint-Avertin, France. CBE Group took care of the production, installation and the launch of the 3 carousels.
A first for CBE Group
It's a first for CBE Group which had never provided 3 carousels and 3 pre-storage carousels for a single precasting site, one more proof of the CBE Group know-how. The exceptional meteorological conditions in Norway were something to take into account in the conception of the project: the client had to order one pre-storage carousel per plant. These special carousels allow the segments to cool down gradually before storing them outside, avoiding a thermal shock between the high temperature of the curing chamber and the cold temperature of the outside. The cooling down process has a great impact on the quality of the concrete. The climate was also an important element in the conception of the outdoor lifting tools such as the storage clamp and the external trolley. The latter was customized especially for this project, using for the first time the induction alimentation, developed by ACIMEX.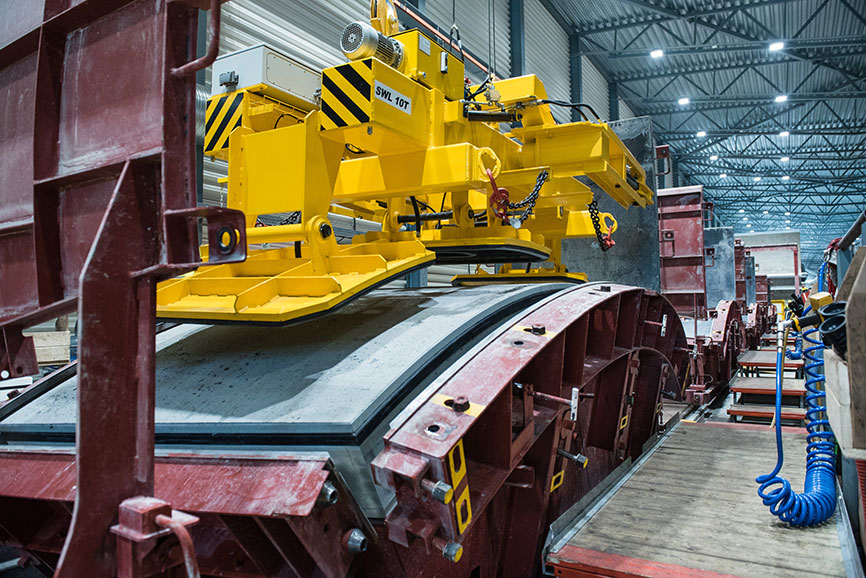 CBE Group also provided 144 moulds for a total of 18 concrete rings, composed of 4 standard segments, 2 counter-key segments, 1 key segment and 1 apron. Each concrete ring has an external diameter of 9550 mm, an internal diameter of 8750 mm, thickness of 400 mm and a width of 1800 mm.
The biggest Norwegian transport project
This tunnel is the biggest transport project in Norway and the biggest railway project in the entire Nordic countries. Those new tunnels will allow the flow of 40 trains per hour (only 12 trains per hour before the construction of the tunnels) and will divide the transport time between Oslo and Ski by 2 (From 22 to 11 minutes).
The attendances level is expected to increase by 63% during rush hour. This double tunnel will also carry freight, which will reduce the number of trucks on the European highway E18 by 750 per day.
The construction of the double tunnel officially begun during 2015, 4 TBMs are currently at work. The whole project should cost more than 2 billion euros and should be completed in 2020/2021.
CBE Group, tunnelling expert, offers you tailor-made solutions for the optimization of your project. Please contact us or ask us directly for a quote.