CBE Group celebrates its 33rd anniversary in March 2020, and still counts amid its staff some of its first employees. Jean-Philippe Menuet, onsite construction supervisor, participated in the first tunnel projects CBE won. We decided to learn more about the way he sees his job, and what are his best memories.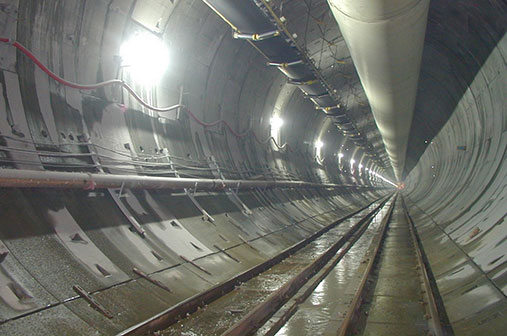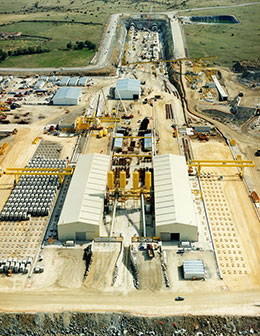 Jean-Philippe, could you tell us more about your job career ?
I have an Agricultural Studies Certificate (BEPA), but I ended up working in mechanics. After training as a welder, I was hired and was able to work in several nuclear power plants, in Metz and Chinon. At that time, I was leading a 5-6 people team, we would work in the machine room. But I ended up coming back to l'Ile Bouchard at MSC, the company which had hired me first. After a few placements in Paris, MSC (now MSCO) called me back to replace the workshop manager. They offered me the opportunity to work on moulds and to learn more about assembly and fitting. I was 28 when I started working on tunnel construction sites.
Our small team manufactured material for automated plants, hoppers, ferries. The team grew, and I was Workshop Manager for 15 years at L'Ile Bouchard for CBE, the new name MSCO chose to take.
I would often go abroad : I installed a first carrousel in Morocco, and I continued dealing with foreign construction sites. At that time, it was euphoria in Spain, as the country benefited from Europe's subsidies : I must have installed 27 carousels ! I dealt with many construction sites. For Guadarrama, in 2001, I managed the installation of 4 plants, with 2 service providers (see photos above). I toured Spain, from Barcelona to Malaga, through the Asturias.
I was also Customer Service Manager for a while, but I only stayed for 2 years in this position : office work is not my thing. I went back to construction sites, gone 240 to 260 days per year. It's really hard on your family life, but you manage fine in the end.
What is your everyday life on a site, how does your work go ?
There is no typical day. Once you arrive, you meet the client and see how the team builds up. Then you start delineating the carousel on the floor, and after that roles are distributed. Ideally, there are 20 people needed to install a plant, with lots of organisation beforehand.
An important step upon our arrival is to make an inventory of all the spare parts : we need to verify that everything is there before we start. My role is to coordinate the teams that I gathered, for the curing chamber or the preparation of rails. I also have a team working on concreting, and another two people and a forklift operator supplying the different positions.
You're like a music conductor ! Is dealing with security one of your tasks ?
Of course ! At Calais in 2016, I spent 1h30 everyday making sure that security was everyone's priority. On a site, one always thinks team-wise, and you need to assign their role to everyone : welding, grinding, anything can become dangerous, so you need to explain all the dangers that can happen before we start.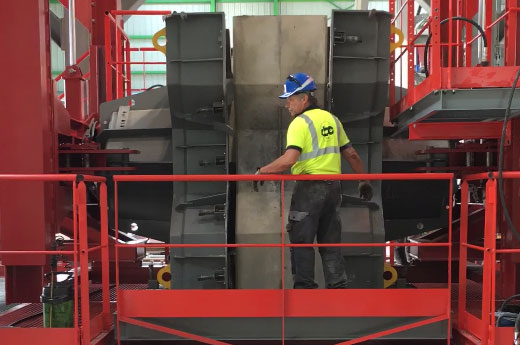 Organisation is essential, it represents 50% of the success of the installation. Every morning onsite, I « say Mass » to my teams : we might lose a bit of time, but I speak to them about the risks that can happen during the day, regarding their work station, so that they are careful. At night, I bring my plans with me, and go through them thoroughly so that I take as much information as I can : the next morning, I won't lose precious time looking for answers.
In the early 2000s, it would take me 5 weeks to install a carousel, we would do everything from A to Z.
Now things are more fragmented and numerous service providers play a part in it. We can still mechanically install a classical carousel, but evaluating the right amount of time to do so has become a difficult exercise.
What qualities do you need to do this job ?
You need to be organised, and to love your job too. People must be dedicated, invested in their mission. It's different for languages : when I first left, I didn't speak english or spanish. I learnt everything as it went. You become very good at miming ! When the person in front of you does the same job, often a manual one, you only need to do one gesture and they recognise it immediately.
With all the carousels I installed in Spain, I now speak better spanish than english. I also meet some clients on different sites, we know each other and we manage to talk together. Some clients, or their teams, sometimes don't even speak english. We must be resourceful, and autonomous as well.
Do you often see the client ?
Yes, everyday, at the end of each day, to provide an update on all that has been done. We need to be diplomatic, while at the same time completely frank. Things will always go well if we are honest with each other.
How has this job evolved over the years ?
Installing a carousel 30 years ago was different. Everything was done onsite : hydraulics, part of the mechanics too. Now, things are pre-fitted. I liked it a lot before, because one learnt many things on a construction site. Hydraulics, mechanics, you name it, I know how to install it. On a project in Johannesburg, I set up the electricity without having to summon the electricians.
An advice for someone who starts in the business ?
To be brave ! Work methods have changed, and it is sometimes difficult, as mindsets are different.
A junior colleague has to love what he does. Maxence, a young construction worker CBE recruited, was always with me onsite for his training last year. I explained everything I did. Transmission is really important in this trade. It is important to want things, to feel implicated. You will never get a standard life with a construction worker job, but it is worth it.
CBE Group, tunnelling expert, offers you tailor-made solutions for the optimization of your project. Please contact us or ask us directly for a quote.