BAUMA 2019 ended on Sunday April 14th and saw a varied audience walk about its alleys : the 600 000 visitors who were expected did come to attend the biggest industry event in the world. CBE Group, along with its two other brands APS and ACIMEX, managed to take advantage of numerous opportunities.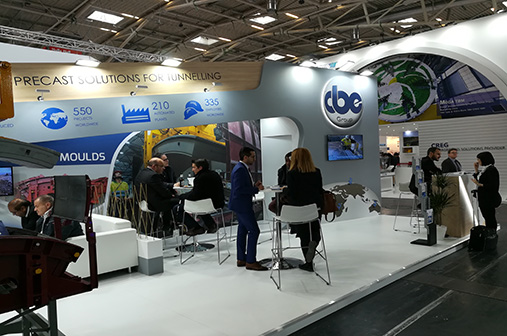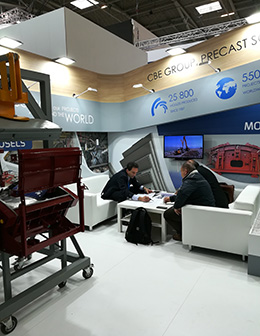 CBE, a sure bet in the tunnel world
Located in the same spot as the previous edition, in the heart of hall C3 dedicated to tunnel, the CBE booth attracted many visitors. The biggest majority was made of already know clients, past and present, who came along to salute the team or to discuss new projects to come. Greece, England, Germany and Asia were at the centre of discussions. Innovation was also a strong theme : a hot topic for CBE, as the company worked on numerous novelties for its australian projects in Melbourne.
The APS brand at the heart of discussions
Also represented on the CBE stand was the APS commercial brand. Even if it was positioned in a tunnel-oriented hall, precast key-players managed to find the brand and to ask the right questions.
In a market dominated by stationary installations, the precast world seems to turn more and more to automation, something that APS can offer. Julien Travers, CBE Group Sales Director, confirms : « We feel a real interest from the concrete world to industrialise the production process. The fact that several companies came to our stand to find more information on precast solutions for concrete elements production might convince us to book a third booth at BAUMA in 2022. »
The ACIMEX demonstrator is a success
For the first time, ACIMEX, another brand from the group, has chosen to exhibit in its name in the new C4 hall, dedicated to lifting. The demonstrator, installed on the booth, attracted many visitors, curious to learn more about vacuum lifting. ACIMEX also surprised with the diversity of its application types : the lifting of pipes using vacuum was met with success.
BAUMA closed its doors until 2022 ; an exceptional event, which allows companies like CBE to showcase its brands and to remain at the heart of the industrial ecosystem. Next event for CBE : the WTC 2019 show in Naples, Italy, from May 6 to 9, a huge gathering that the entire tunnel community attends.
CBE Group, tunnelling expert, offers you tailor-made solutions for the optimization of your project. Please contact us or ask us directly for a quote.