CBE Group will exhibit at the 32nd edition of BAUMA, the industrial worldwide show that takes place in Munich, Germany from April 8 to 14, 2019. This unavoidable event gathers all the industrial major actors of the XXIst century and concentrates the most important variety of expertise and innovation for the construction field.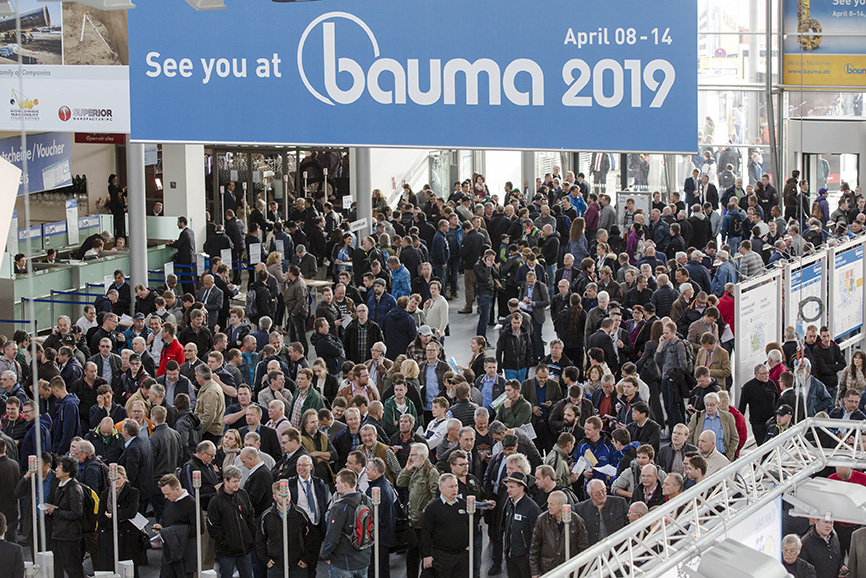 BAUMA, the show that sees big
BAUMA is an unmissable international show where all the companies of the industry sector participate, whether as a visitor or as an exhibitor. An exhibition showcasing construction, mining, machinery and equipment, BAUMA represents 620 000 sqm divided into 18 exhibition halls, 3 500 exhibitors from 60 countries and more than 600 000 visitors from 200 different countries.
Innovation takes the spotlight for this 2019 edition, as the jury will give out the « International BAUMA Innovation Award », and a complete exhibition hall will be dedicated to virtual reality, where visitors will be allowed to experience walking through a construction site without any danger.
CBE Group takes part in the essential global industrial event
Ever more present on the international scene, CBE will once again attend the event. Julien Travers, Sales Director, explains : « BAUMA allows us to reconnect with numerous clients and partners implanted all over the world, on a very short time span. The tunnel hall concentrates in the same place almost all the key players from the underground world : it is the ideal moment for us to take stock of all the future projects and of those being conducted. We also use the event to present to our clients all the innovations that CBE has developed over the past few years. »
Indeed, CBE Group celebrated its 25 000th mould in 2018, and is preparing for an intensive 2019 with its 6 projects awarded for Grand Paris Express and its 2 australian projects in Melbourne.
The marketing team has been preparing this event for more than one year and a half now, as the company wants to answer its visitors' expectations, and above all to offer always more qualitative products and services.
Where you can find CBE Group at BAUMA
You can meet our representatives the whole week from April 8th to 14th on booth C3-135. Don 't hesitate to organise a meeting if you want to prepare your future tunnel projects with them. You can also find the ACIMEX team on booth C4-221, should you have any need in handling and lifting heavy loads.
CBE Group, tunnelling expert, offers you tailor-made solutions for the optimization of your project. Please contact us or ask us directly for a quote.