« The construction site of the year », according to French Prime Minister Edouard Philippe. The Grand Paris Express project will serve the most important poles of activity and will bring the suburbs closer to Paris, thanks to its 200 kms of rail. CBE Group is now working on 5 lots of the underground project, awarded since the end of 2017. Started in 2018, the global project should be completed in 2030.
CBE Group working on the biggest urban project in Europe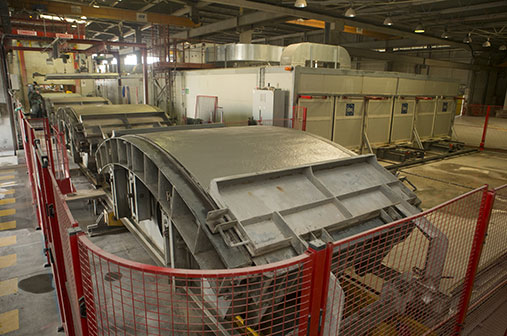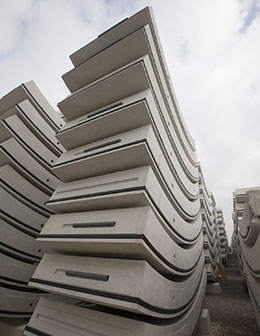 The expansion of the Parisian subway plans not only the extension of the already existing 14th and 11th lines, but also the construction of several new lines, such as the 15th and the 16th ones.
CBE Group is already working on line 14 and line 11, and a double carousel has been commissioned almost one year ago for new line 15, which now also produces concrete segments for line 11. Among the numerous equipment, a pre-storage carousel including an automated stacker is one of the novelties of the factory. This allows for a better production management, since once the concrete segment is out of its mould with the help of a vacuum lifter, then lifted on the tilting machine, the cycle becomes entirely automated : the returning, the stacking 3 by 3 and finally the evacuation using FIFO (« first in first out ») in the pre-storage zone for a day. 24 hours later, the concrete segments are transferred in the storage park using an automated trolley for a minimum of 28 days. As the production goes on, the production of the 1,000th concrete segment was celebrated in september 2018.
This factory has a particular significance for CBE Group, as it was the 500th project signed since the creation of the company.
Another carousel has been set up for the construction of line 16, which should start in the first semester of 2019.
So far, CBE Group has provided 3 automated plants and produced 224 concrete segments for the Grand Paris Express project.
Additional contracts in preparation at CBE Group
Lines 14 and 16 should be finished for the Olympic Games in 2024, and the complete project for 2030. Deadlines are short, and human resources are essential ; 21 TBMs are expected on the project. Because CBE Group would like to pursue the project and to maintain its production in France, the company is also going to make other proposals to win new contracts on the Grand Paris project.
CBE Group, tunnelling expert, offers you tailor-made solutions for the optimization of your project. Please contact us or ask us directly for a quote.